Interview: Brendan Whelan, OpenOffice.org 2.0 Splashscreen Designer
2005-02-23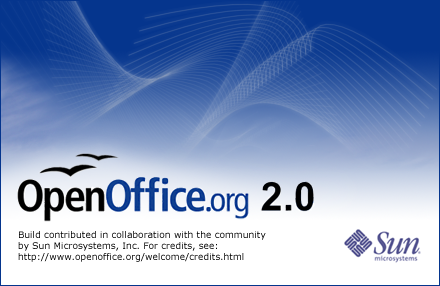 Winner, Splashscreen Competition. Artist: Brendan Whelan
---
Early 2005 we held a competition for a fitting splashscreen to grace the new OpenOffice.org 2.0. Millions, tens of millions, will see it each day as they start up their OpenOffice.org 2.0, so the splashscreen competition was quite important. Of the hundreds of submissions, we chose eleven. We then held a vote among all community members (registered members of OpenOffice.org), and the winner was Brendan Whelan.
Congratulations Brendan!
The design, which you see above, captures the flow of OpenOffice.org's famous seagulls and waves while giving them a clean, modern look.
Shortly after he was informed he had won, I asked Brendan a couple of questions. Below, are his answers.
The image is very professional. What is your background?
I'm a professional programmer. Computer Art is one of my hobbies and I've used it for graphical elements for my own development projects in the past.
Can you speak to the origins of your design?
I wanted to use the existing OpenOffice.org motifs of waves and gulls, but to give it a more dynamic, three-dimensional feel. I used the repeating curves to blend a wave into a gull, and also added some soft clouds to give that "open" sky feeling. The feeling I was going for was a flow of the wave into the gull, which then almost comes out above you through the clouds and sky. The curves, being slightly different to each other and dimming with distance, were designed to give an three-dimensional feeling of motion and depth to a two-dimension image.
How did you get interested in OpenOffice.org? And why open source?
I've been aware of OpenOffice.org.org for a year or two as a candidate office suite that rivals commercial alternatives in terms of cost and open standards. It is (in my view) the highest profile open-source project around, perhaps because an office suite is the kind of application that almost every computer user will use.
I'm a regular reader of slashdot.org, where open source and OpenOffice.org, both feature regularly. I first heard about the splash screen competition there and thought it would be a great opportunity to contribute and create a new image for OpenOffice.org: an image which is true to its open spirit on the one hand, and yet professional enough to place OpenOffice.org in with its commercial alternatives.
As for open source - I think the open source movement is the one shift in software development that will have the greatest impact on the software industry, now and in the near future.
Thanks, Brendan!