Press Releases
The OpenOffice.org Marketing Project is happy to acknowledge the generous support of PRWeb in helping us distribute and track our press releases.
You can see all our Press Releases archived in our PRWeb Newsroom.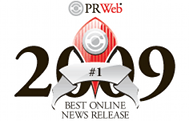 OpenOffice.org was delighted to be awarded the Best Online News Releases Award 2009 for our Press Release for the launch of OpenOffice.org 3.1.